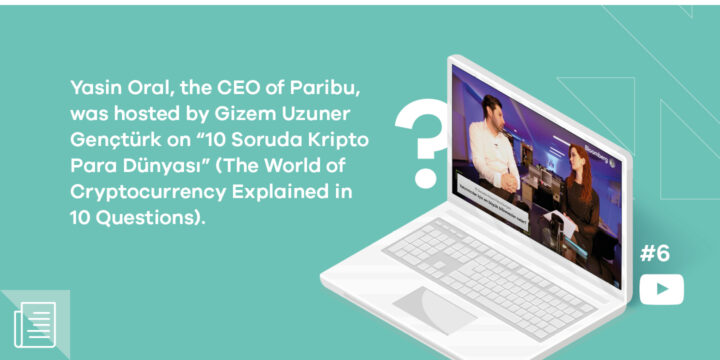 This week, Yasin Oral, CEO of Paribu, was hosted on "10 Soruda Kripto Para Dünyası" (The World of Cryptocurrency Explained in 10 Questions) sponsored by Paribu and broadcasted on BloombergHT. During the program, where Gizem Uzuner Gençtürk has posed the questions that cryptocurrency investors have in their minds, a lot of topics have been discussed.
Gençtürk stated that in dealing with the regulation issue in the USA by giving examples from the world, she first examined financial crimes, and then she started her research on tax regulation. As a response to the question "When it comes to the regulation process in our country, where should it start?" Oral answered by saying, "When we talk about the regulation, everyone discusses taxes, however as it is clear in the example given, taxes is the last step of the process. In fact, for us the regulation starts with protecting the investor."
Oral touched upon the fact that with the regulation, Turkish and foreign platforms must be obliged to abide by the rules set by the Turkish government. Oral continued: "There are a lot of foreign platforms, we have no idea as to where any of them is, we have no idea about where they keep their wallets. It is high time to determine certain rules so that the investor can decide whether they can keep their deposits in secure places." Additionally, Oral underlined that the regulation will not create any disadvantages for the investor.
Gençtürk asked Oral: "Ten years from now, where do you see the world of cryptocurrency?" Oral expressed that it is so hard to guess what will happen even a year from now, and the top 10 cryptocurrency list changes every year. Furthermore, he stated: "In my opinion, the centralized structures will be slowly replaced by decentralized structures, maybe where every community develops its own payment system and exchange tools. The more the technology enters into our lives, the more the payment systems go towards that direction."