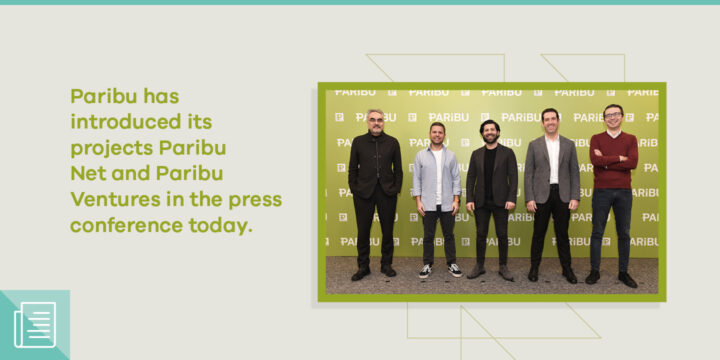 Paribu announced Paribu Net, the first independent blockchain project in Turkey, and Paribu Ventures, which it established to invest in the ecosystem.
Two important projects by Paribu were introduced at the virtual press conference held on January 14, 2022. At the conference, which was attended by Yasin Oral, CEO of Paribu; Cemil Şinasi Türün and Turan Sert, Advisory Board Members of Paribu; Akar Aydemir, Business Development Manager at Paribu; and Utku Dördüncü, Project Manager of Paribu Ventures; the new projects were introduced in great detail, and the questions from press members were answered.
"We position Paribu as a new-generation technology company"
Stating that after Paribu Net and Paribu Ventures, other projects were on the way as well, Yasin Oral announced that they will also form new partnerships in the field of social responsibility, which they have embraced for the past 5 years.
Oral noted that they aimed to position Paribu as a new-generation technology company. He said, "Our road map is based on the groundbreaking activities to be carried out in the field of technology. The acquisition of SHERPA by Paribu last month is a major step towards globalization and supports these activities. Paribu Net, the first independent blockchain project in Turkey, will be another step towards this goal. Paribu Net, which is a fast, scalable, and secure blockchain network, is a significant project both for Paribu and for our country. Paribu Ventures, on the other hand, is an organization through which we will invest especially in blockchain ventures and technologies. We are excited to implement major projects that will help Paribu gain global presence on the 5th anniversary of its establishment. However, we also have some other plans and projects for this year, and we will continue our efforts to develop projects that will allow us to provide services in Turkey and abroad using blockchain technology."
We hope that the regulation will protect investors and users
At the conference, Yasin Oral made the following statements about the regulation: "We are the gateway to a decentralized world. We believe that the regulations to be introduced in a decentralized world should not be restrictive, but should protect users and investors."
Paribu Net breaks new ground in Turkey
Paribu introduced Paribu Net, a fast, secure, resilient, and scalable blockchain project. Smart contracts, decentralized exchanges, decentralized financial platforms, NFT markets, and many other distributed applications will be developed on Paribu Net, which will go live with a public testnet next week. On February 14, the mainnet has launched, and the pre-sale of Paribu Coin, the network's native token, will start.
Paribu Ventures has been established for ecosystem investments
Considering that supporting the products and projects developed in the blockchain ecosystem is one of its responsibilities, Paribu established Paribu Ventures in order to support the projects of entrepreneurs who make a difference, in early or advanced stages. It is aimed to invest in a minimum of 30 ventures in two years through Ventures, which will start its investments with a budget of $30 million in the first phase. Ventures or projects to be selected according to certain criteria will be funded and allowed access to Paribu's technological infrastructure.
On the occasion of Paribu's 5th anniversary, which will be celebrated on February 14, a video featuring the projects and activities carried out in the past five years was shown to the participants before the conference.
Bu içerik en son 26 October 2022 tarihinde güncellenmiştir.