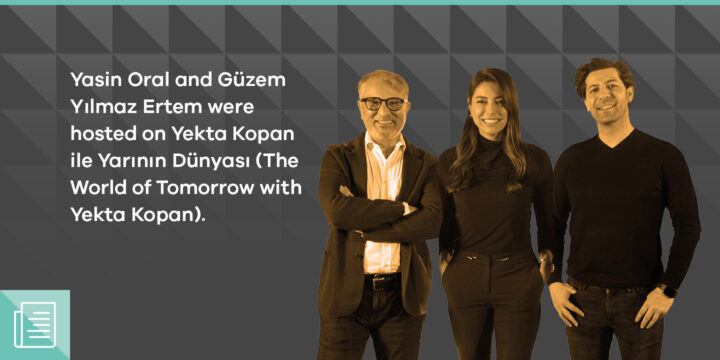 Yasin Oral, CEO of Paribu, and Güzem Yılmaz Ertem, BloombergHT speaker, were hosted on the second episode of YouTube series "Yekta Kopan ile Yarının Dünyası" (The World of Tomorrow with Yekta Kopan).
Starting with the story of the establishment of Paribu, told by Yasin Oral, the conservation continued with various topics including cryptocurrency markets, economic and digital transformation processes.
While relaying the journey of Paribu from the start until today, Yasin Oral stated that the daily trading volume of Paribu reached $1 billion. He touched upon the fact that allowing for easier transactions compared to the traditional stock markets, increases this demand as well.
"Our adaptation process to technology is rapid"
After Yekta Kopan mentioned that Turkey has adapted to the changes rapidly through alternative banking, "We are a country that uses the technology rather than producing and developing it. Therefore, we say "Here we are!" full of pride in Fintech.
By underlining that he often repeats, Oral said: "Everything shows us that our adaptation process to the technology is rapid, even the social media".
"It is easy to launch a cryptocurrency"
To the question "Will there be a cryptocurrency launched by Turkey?" posed by Yekta Kopan, Oral responded as follows: "It is easy to launch a cryptocurrency, it is hard to build its technology and it is what we do now."
In discussing the effects of the pandemic and the change it brought along and the regulation plans of the government, Kopan asked: "What do you think about this change?".
Oral mentioned that cryptocurrencies are accepted by people, and they do not need any intermediaries as long as the users have confidence in them and added: "Once an area of confidence is created, the change will happen within its own dynamics."
Ertem stated: "If you ask me, the authorities should support this rather than objecting to it.
How should be the world of tomorrow?
The question of Yekta Kopan "How should be the world of tomorrow?" was responded by Yasin Oral as follows: "The world of tomorrow will be a new world where everyone is financially independent." Furthermore, Oral mentioned the vital importance of love and tolerance.
You can watch the full episode from the link below.