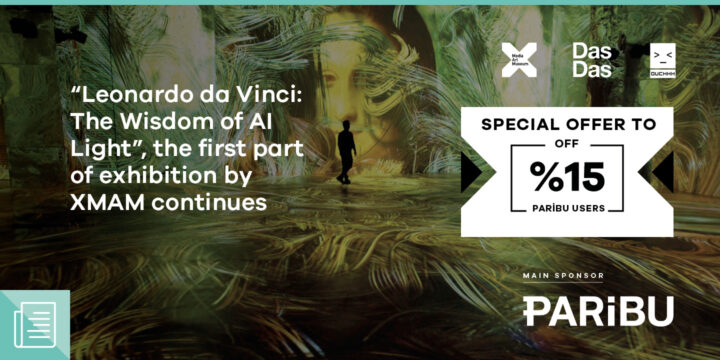 X Media Art Museum, the first digital arts museum in Türkiye, continues to welcome art fans under the main sponsorship of Paribu. Paribu users can visit the first part of the museum exhibition, Leonardo da Vinci: The Wisdom of AI Light, with a 15% discount until July 31.
Leonardo Da Vinci: The Wisdom of AI by Ferdi Alıcı, founder of Ouchhh Studio, aims to establish a unique relationship between the physical and digital worlds. The exhibition, which welcomed its first visitors on January 30, consists of Leonardo Da Vinci's drawings and 3D modelling. Having been created with art history data, the works use the artist's inventions, machine drawings and sketches as a database.
Paribu users can follow the steps given below to benefit from the special discount offer:
Sign up and log in to Mobilet

Select a date and time to visit the exhibition

Click on Purchase

Select the number of tickets

On the next page, click on "Paribu Campaign"

Type XMAM and send it as an SMS message to the following phone number: 0850 303 60 00

Enter the code received

Confirm your information

Proceed to payment
You can purchase a ticket to Leonardo da Vinci: The Wisdom of AI Light exhibition from the link.
Bu içerik en son 2 May 2023 tarihinde güncellenmiştir.